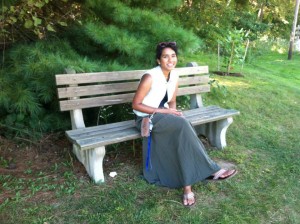 In this Senior Spotlight, meet Nitheesha Nakka, a senior from Longmeadow, Massachusetts! Nitheesha is majoring in Economics with a minor in French in the College of Liberal Arts and Sciences. Nitheesha has overcome struggles, and excelled in and out of the classroom, serving as a mentor for many among the UConn community.
What are your post graduation plans?: I am training to be a financial advisor and Wealth Management Planner at Barnum Financial Group. I'm really excited for the opportunity to start my career but who knows where life will take me! I'm just excited to find out!
What is your favorite UConn memory?: I am the Lip Sync Coordinator for the Asian American Cultural Center and my favorite memory was just this past fall when we got first place in the competition. My team and I worked very hard to put on a great show and I'm glad everyone else in the audience was able to enjoy it as well. Our theme was Pirates of the Caribbean and we went nuts building a ten-foot tall Kraken, various pirate and fish costumes, and lots of other props. It was a lot of work, but trophy or no trophy, it was worth it.
Why did you become a husky?: Admittedly, I didn't know whether I'd like it here or not when I entered UConn as a freshmen. But I quickly grew to love it. After getting involved at the cultural centers and other student programs I grew to love everything about UConn and I was proud to be a husky! I've met some really great professors and mentors here who contributed to my growth and I knew I couldn't have those experiences anyplace else. So that's why I became a Husky and stayed a Husky!
What is your favorite place on campus?: I love the little stone walled garden behind Gulley Hall. I just happened upon it one summer and ever since then I loved going there to work or read or sit with friends. I especially enjoy being there in the summer when all the hydrangea bushes are in bloom and they surround the little garden. It's very beautiful and quite easily my most favorite spot on campus. With all the new construction I sincerely hope they don't do anything to that place.
What have you been involved in at UConn?: I work as the Pan Asian Council Coordinator at the Asian American Cultural Center. We host most of the programming at AsACC such as, the IMPAACT (Identifying the Missing Power of Asian Americans) Leadership Conference, helping the AsACC Homecoming team, the annual Asian Nite Cultural Showcase, and also we participate in the Ignite Crowd funding competition. By extension, I also had the chance to serve on the Vice President of Student Affairs leadership council to lend a student voice to administrative or structural changes here at UConn. I also am part of the AsACC Homecoming team as the Lip Sync Coordinator. I choreograph, teach, write the script, and direct the skit for the UConn annual homecoming Lip Sync Competition. I am also involved in student organizations including Illumin8 Dance Crew. It has been an honor and a privilege to be captain of this amazingly talented hip-hop group. We choreograph and perform original routines and host workshops to teach other students our dances. Many of our members have gone on to dance at other professional studios. It has been a tremendous growing experience to be a part of these organizations on campus. I know I couldn't have become half the leader I am today without being involved in these extra circulars.
What will you miss the most about UConn?: I'm going to miss being on this huge campus. We have a campus with it's own zip code because it takes up the entirety of Storrs, CT. In such a huge place there's always something going on at one end of campus or another. Students and their student org's are always hosting different events and there's always an incredible amount of free things available. I'm certainly going to miss getting a free t-shirt every corner I turn.
What was your biggest accomplishment while at UConn?: I would say my involvement at UConn has been my biggest accomplishment. Throughout my involvement I've learned to present, perform and lead various groups of people whether it be a group of 800 people or just 8 people. I never anticipated doing anything like that. Between extra circulars and balancing school, it has been a challenge that is well worth the reward.
What advice do you have for underclassmen?: Do not be afraid of change. Learn to be adaptable because there are always new things happening at UConn, whether it's getting new members in your student org, or switching a major, or simply trying new food. Along with that, the most important advice I can give is to always be open to making new friends. More often than not, I see many people stay with the same group of friends they've known since their freshmen year. Although I know it's important to have long and meaningful relationships, some of the most important and impactful people I've met and gotten close to emerged during my senior year. I'm very grateful that I never closed myself off to one circle of friends. We are always changing and learning more about ourselves so never constrain yourself because there are newer, possibly better, relationships that you have yet to develop.
What is one little known fact about you?: I never wear the same colored socks.
---