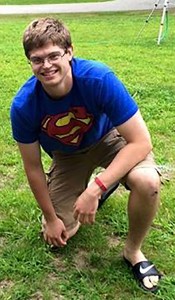 In this Senior Spotlight, meet Mike Bond, a senior from Windsor, Connecticut! Mike is a Molecular and Cell Biology major with an individualized major in Chemical Biology in the College of Liberal Arts and Sciences. Mike was nominated for his work as an RA – "Mike is an all rounded student that has done great work for the community." Mike is very invested in his research at UConn with a goal to cure cancer!
What are your post graduation plans?: I will be attending Yale University for graduate school. As part of the pharmacology track in the Biological and Biomedical Sciences program, I will be conducting research on novel therapeutics for diseases, primarily cancer. I hope to work at Yale's newly acquired West Campus identifying targets for therapeutic development as well as synthesizing lead compounds that will develop into future medicines.
What is your favorite UConn memory?: There are too many for just one. I have two, both sports related: Being a part of the celebration when the men won the NCAA tournament my sophomore year. My friends and I were watching the game in our dorm. When we knew they were going to win we turned off the TV and tried to be as quiet as possible. After a brief moment of silence, every corner of the campus erupted. It was like nothing I've ever heard before. My friends and I joined the celebration on Fairfield Way. It was crazy. I don't think I'll every forget that. I'll also never forget the UConn vs. Vermont Hockey East Playoff. It was the first home Hockey East playoff series for the Huskies. The atmosphere at the XL center was amazing. I don't think I have yelled more at a hockey game. Even though we lost, the team put up a great fight. I'm excited to hear about our hockey program in the future
Why did you become a husky?: To be honest, UConn was not the first choice on my list. Initially, I chose UConn because it allowed me to get a top quality education without going into massive debt. As a CT resident I feared coming to UConn would be like a bigger version of my high school since so many people from the graduating class had committed to the University. However, I soon found out that UConn is nothing like high school. In fact, UConn has been the perfect place for me to spend my undergraduate career. For one, I have met lifelong friends. In addition, UConn has given me opportunities I did not even think were possible. We are one of the top public research Universities in the country. I took advantage of this and began work as a freshman. Research has become an integral part of my life here at UConn. Thanks to the relationships I have built with my PIs and other researches I was able to gain admittance into Yale's graduate program. I do not believe these opportunities would have been readily available at the other institutions I had considered attending.
What is your favorite place on campus?: Horse barn hill at sunset. It is the most serene place on campus, especially in the fall.
What have you been involved in at UConn?: Over my four years at UConn I have been very active in the fight against cancer both as an undergraduate researcher and a member of UConn's Colleges Against Cancer. I've been a member of the Giardina Lab since my freshman year. My work has focused on characterizing a small molecule that sensitizes cancer cells to apoptosis, a fancy word for cell death. I joined the Wright lab in the spring of my junior year. In Dr. Wright's Lab I have worked on creating new molecules to help us identify the cellular target of the aforementioned compound. I've also worked to make new molecules that kill colon cancer cells. Some of my molecules are active and I hope to one-day patent them. The ultimate goal would be to have the compounds I've made to be tested in a mouse model and sent to the FDA for a clinical trial. I currently split my time between both labs. Science isn't the only thing I do. I've played flag football every year, softball for the two semesters it was offered, and bowled as a freshman. I was also involved in UConn Change Lives, a member of Distressed Children's International. Our organization raised money to support orphaned or abandoned children in Bangladesh. I have been a Resident Assistant (RA) for the past two years. The job has taught me how to handle stressful situations and work better with others.
What will you miss the most about UConn?: I will miss spending time with my friends. I have been lucky enough to meet some great people. They are supportive and understanding, even when I constantly freak out about grades and/or my experiments failing. We have had a lot of fun over the past four years and I'll cherish the memories for a long time.
What was your biggest accomplishment while at UConn?: My biggest accomplishment is co-authoring a paper that was just published in PLOS One. I have worked tirelessly over the past 3.5 years in the lab. All that hard work finally paid off.
What advice do you have for underclassmen?: Put down the phone and live in the moment. College goes by fast and it gets harder every year. Enjoy your freshman and sophomore year when stress is relatively low. Studying and getting good grades is important, but remember to have fun.
What is one little known fact about you?: In high school I played baseball at Disney's Wide World of Sports. It's the spring training facility used by the Atlanta Braves. I got to play on the same field that some of my favorite players, like David Ortiz and Dustin Pedroia, play every year.
Anything else?: To whoever nominated me, thank you. I appreciate the recognition and the opportunity to share my story.
---