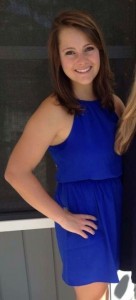 In this Senior Spotlight, meet Kaitlin Carter, a senior from Naugatuck, Connecticut! Kaitlin is an Exercise Science major with minors in Nutrition for Exercise and Sport and Biology in CAHNR. Kaitlin was nominated for her leadership on an Alternative Break trip – "She has exceptional organizational skills and commitment to justice oriented services."
What are your post graduation plans?: I'm attending the University of Pittsburgh's Doctorate of Physical Therapy Program in June. In the future I'm hoping to work in a special care hospital or do research on neurological disorders and aquatic therapy.
What is your favorite UConn memory?: My favorite UCONN memory would have to be the three Alternative Breaks I've been on. I've learned so much thanks to these experiences. I've also met incredible people that I really look up to and I know we'll keep in contact for years to come. If I never got involved in Alternative Breaks I wouldn't be the same person I am today.
Why did you become a husky?: I came to UCONN because I knew they had a really great Kinesiology program and there were so many opportunities for involvement on campus. The first time I toured campus I knew right away that I wanted to come here, there was so much energy amongst the students and I knew it was a perfect fit for me!
What is your favorite place on campus?: Definitely the student union quad, I love to sit out there and study with friends on a nice day!
What have you been involved in at UConn?: I've been a member of the sorority Alpha Epsilon Phi since my sophomore year and I've met some of my best friends through this organization. I volunteered at the Korey Stringer Institute and helped out with some of their research studies. This year I was the Director of Programming for Exercise is Medicine and I was a Trip Director for the Oklahoma Native American Rights Alternative Break. I also work for UCONN's Physical Therapy department. I've been so lucky to be involved on campus, I've met so many incredible people that I hope to keep connections with after graduation.
What will you miss the most about UConn?: I'll miss seeing my friends every day. Being able to spend time with my friends all the time is one of the best things about UCONN. I wish all of them could come with me to Pittsburgh, but I'm looking forward to when they visit!
What was your biggest accomplishment while at UConn?: Leading an Alternative Spring break to Oklahoma focused on Native American Rights was my biggest accomplishment. I had the opportunity to learn about history, culture, and people of the Cherokee Nation. My participants were amazing; they did great work and really made an impact on the Brushy community. I also learned so much about myself through this experience and that I will always make an effort to keep community service as an important part of my life.
What advice do you have for underclassmen?: My advice would be to get involved as much as you can. Go to the involvement fair and find an organization that you're passionate about, this is really the best way to meet new people and some of your best friends. Getting involved in Alternative Breaks, Greek life, and Exercise is Medicine were the best decisions that I've made at UCONN. Without these experiences I wouldn't be the same person I am today.
What is one little known fact about you?: I'm obsessed with peanut butter, specifically Skippy.
Anything else?: College goes by so fast, take it all in and don't forget to have fun!
---